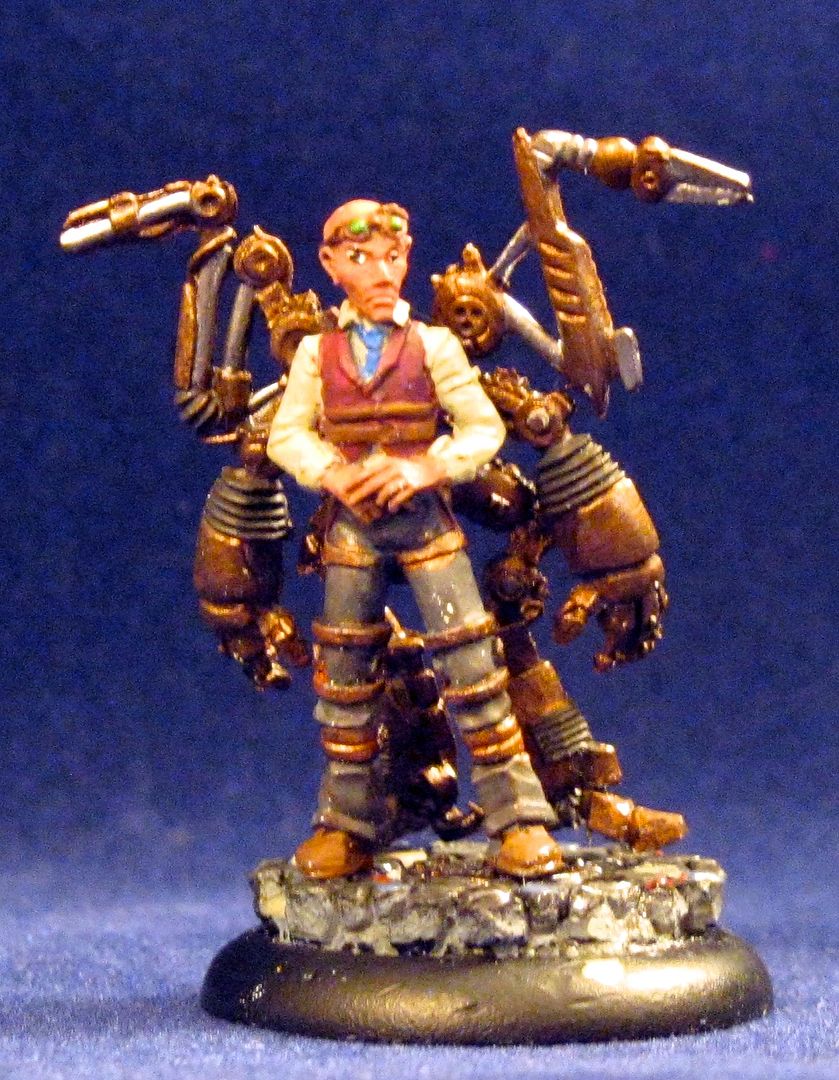 Over the past couple months Wyrd has released the Wardens into the wild, expanding the choices for moderate costed minions for guild crews. This was an especially anticipated release for me because they provided a decent 5 point minion for my Hoffman crews. Of all the Guild masters, Hoffman was the master I had stayed away from playing regularly. This was very heavily influenced by the fact I had trouble getting him to work well for me. He just did not feel (to me) like he had enough models to flesh out a solid crew selection for him. The Wardens filled the price slot I was looking for, allowing me to play with a crew that felt "filled in" to me.
So, with the release of the Wardens Hoffman has begun to get some table time in my games. I have trotted him out a couple times recently, with results that are not too bad. A quick look on my spreadsheet shows a record of 4 wins, 2 losses, and 1 draw for a total of 7 games. While that only comes in at less than half the games I have played with aSonnia and aJustice, it is ahead of Perdita and Sonnia without her Avatar, and slightly edges out even Lucius. Overall he has been very interesting to play, and I have enjoyed the games.
Click on graphic to jump to my spreadsheet
So far this article really looks like a lead in to discuss the crews I have taken and how much I like or dislike Hoffman. Thats not where I want to go with this though, I have a different goal in mind. I have heard a whole lot of feedback on the Wyrd Boards about how Hoffman players limit themselves to only construct crew. Further, this approach is presented as a negative or weak way to build a Hoffman crew. This type of feedback really made me think about how I build Hoffman crews, and then further on how I build Guild crews in general. Thats the area I wanted to target and discuss with this article.
I am going to step right up, raise my hand, and say that I build construct only crews for Hoffman. When I reach to pull Hoffman out of my bag, my crew selection narrows down to the following models:
Pale Rider
Warden
Watcher
Guardian
Peacekeeper
Ryle
Hunter
Joss (Arcanists)
Coppelius
Mechanical Assistant
Ok, so there are some missing models here, namely the Mobile Toolkit (Handy), Mechanical Rider, Steampunk Arachnids and Swarm, and the Steamborg Executioner (Hank). I also admit that Coppelius is not a construct, but is uniquely suited and allowed in a Hoffman crew. At the end of the day, these are the models I reach into my bag to pull out though. Namely missing are the mainstay guild models such as any Ortega's, Death Marshals, Austringers, or Witchling Stalkers.
Looking a bit closer as to why I reach for the constructs, it comes back to what Hoffman is good at. Hoffman is a support centered Master who has some combat/offensive ability in a pinch. His strongest abilities are Machine Puppet and Override Edict. Machine Puppet allows him to use his AP to make a nearby construct attack with a CB of 6 Ram's, along with adding the Critical Strike trigger. As the construct is making the actual attack, all benefits that construct might get normally are included in the attack. Override Edict allows Hoffman to burn 2 AP to "take over" a full activation of a nearby construct, friendly or enemy. Both of these abilities are amazing abilities and only work when he is paired with constructs. Furthermore, Hoffman is a very slow master but can "Hitch a Ride" with friendly constructs of at least Ht 2. He has a number of other abilities that are only triggered or enhanced by the presence of friendly constructs.
I understand that Guild as a whole is pretty versatile. The other Guild masters (Justice, Sonnia, Perdita) can use fairly interchangeable crews, bringing their own type of support to the crews. One of the reasons for this is that none of these other masters are support masters. They all have their own role to play, and then provide crew support as an addition to what they do well already.
So, here is the crux of the argument I get stuck on when reading about adding living models into a Hoffman crew. First, we have to agree that Hoffman needs some constructs to work well. Lets be nice and agree that at least half his crew is going to consist of constructs. That leaves half or less of his crew for models that he does not synergise with as well as constructs. Except in very very rare circumstances (coppelius) these models do not benefit from being in a crew with Hoffman, and Hoffman will not benefit from them in the crew. Meanwhile, had we gone fully construct, every model in the crew can both benefit and benefit from Hoffman.
Here is where it gets worse. If I want to play a crew with living models such as Stalkers, and Nino, and Austringers, other Guild masters work better with them. Lady Justice brings hard hitting and can bump all thier CB values. Sonnia brings big blasts, recycling near-dead models, and magic protection. Lucius and Perdita bring extra actions to the crew. Looking closer at Lucius, he brings extra attacks, CB boost, and movement to guild-guard crews, nearly identical to what Hoffman brings to Construct crews.
So, why would I run a sub-optimal master with a sub-optimal crew when I could make a better choice? Adding a construct to another masters crew can enhance that other crew. Adding a living model to Hoffmans crew does nothing for Hoffman, his crew, or the model you added.
So, dear reader, I leave you with that quandry. Why would I add living models to a Hoffman crew when I could add a construct? Why lead a living crew with Hoffman, when you could benefit better with other Masters?
Maybe its just down to people liking the Hoffman model and Aesthetic. I can understand that argument, but its the only one I can really understand. Are there other sound reasons?