The only game in my collection which currently uses models of this style is Super Dungeon Explore (SDE) by Soda Pop Miniatures. SDE is a dungeon crawling game I've had in my collection for a couple years which I enjoy a great deal. Over the years I've made some soft inquiries to different painters about costs to have my rather large (and regularly growing) SDE collection commission painted, but had never come across the best arrangement. I did convince friend and amazing commission artist
Convy or 13th hour miniatures
to squeeze a couple of my SDE stuff in between some of his other commissions and these looked great.
There were a couple challenges that kept me from diving into painting up my SDE. The Chibi style is fairly clean and cartoony, which is not a style that I had practiced or been taught to paint. The style tended toward brighter colors and extreme highlights, which are both fairly different from how I am comfortable painting. Lastly was the emphasis on faces and especially on eyes, which are painted in a fairly specific style that is very recognizable. This style with the eyes includes some bright colors, multiple layers to show a pupil, iris, and the rest of the eye, and a fairly specific use of Object Source Lighting. All of this built up a barrier in my mind that convinced me I would not be able to paint my SDE models in a way I'd be pleased with.
Wow, was I wrong.
Clean Painting Style with Bright Colors
One of the challenges I faced for painting Chibi models was that the cartoon blocked out look is what I was aiming for. At the same time, I've seen some fantastic chibi style models that incorporate beautiful levels of blending far beyond even my typical blending skills. I was not sure how to incorporate both of those and get the desired result on my models. I ended up jumping in to start with Fire, as I feel most comfortable painting fire. I started painting the fire in the same was I would on any other model, blending up each of the colors and trying to fade through the hard lines on the model. After doing this and reaching a point I was comfortable with, I went back and painted in hard edges to my colors, emphasizing the harder lines and covering over (with a thinner layer of paint) my blending. In the end I was surprised and pleased with how the models turned out.
Painting Chibi Eyes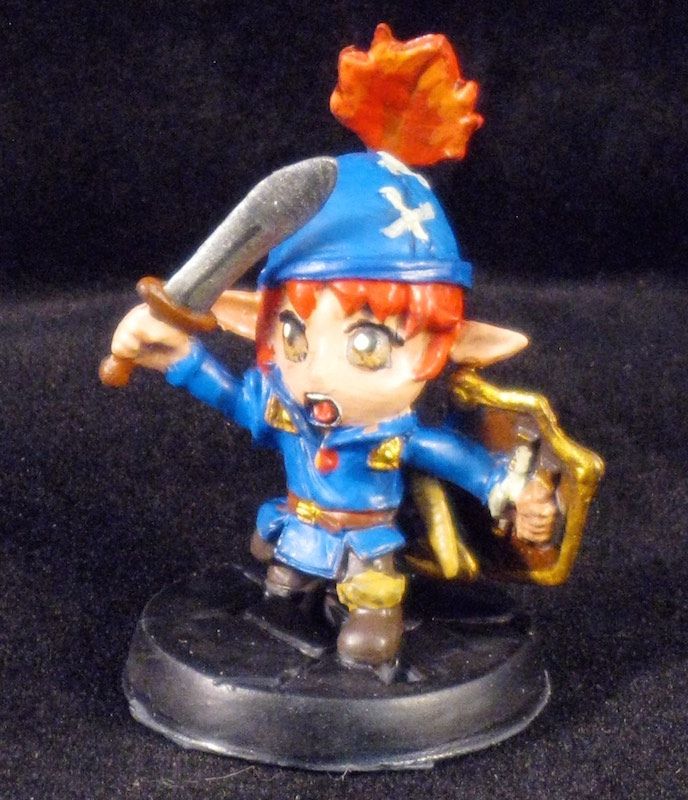 I had discovered that painting Chibi Eyes was not as tough as I had expected. Additionally I was able to achieve some pretty good results and then go back to focus on cleaning up the model and really working on the extreme highlights. Overall I am very happy with my progress painting my SDE models and have begun to experiment with other colors and styles on the eyes. The ranger (Blue to the right), Hexcast Sorceress (ping hair below) and Paladin (Yellow hair below) are three of my recent models with some of the best eye work I've done so far.
After all that I would be remiss to not give a reference to the fantastic tutorial that I followed for the Chibi Eyes. I found a tutorial by
Queen of Cute on deviant art
which is what I use and recommend to others. It's a very simple tutorial to follow and Queen of Cute did a fantastic job laying it out. Thanks to her (him?) for posting this online.