The Dark Reapers are the most heavily armed of the common Aspects. Their black armor is made from heavy interlocked plates and they have heavy lower leg armor to stabilize their bodies so that they can aim and fire more accurately. Dark Reapers are armed with a deadly long ranged missile launcher and their role is to provide long range supporting fire. The weapon relays an enhanced targeting image into the warrior's helmet via the receptor vanes, making it almost impossible for a Dark Reaper to miss.
That's taken directly form the description in the 40K second edition Eldar codex. How bad-ass are these guys? Well, I have completed the 3 Exarchs that have been sitting on my painting tray and they have joined their 10 brethren in my figure case. First lets take a look at the three bad boys together:
So next we take a close-up look at each. First we have the Tempest Launcher Exarch. I will probably use him most, when I actually bring the Dark Reapers out of the case. Not only is his weapon, in my opinion, the most useful but....... Look at the skill shoulder pad he has!!!! How bad ass do you need to be to wear a skull shaped shoulder guard that bigger than your head????
Next we have one of my favorite 4th edition sculpts, the Dark Reaper Exarch with Shurican Cannon. I always like this guy and wanted to get one painted up for the Dead Tau project. He may not see much use, but I like the pose and sculpt.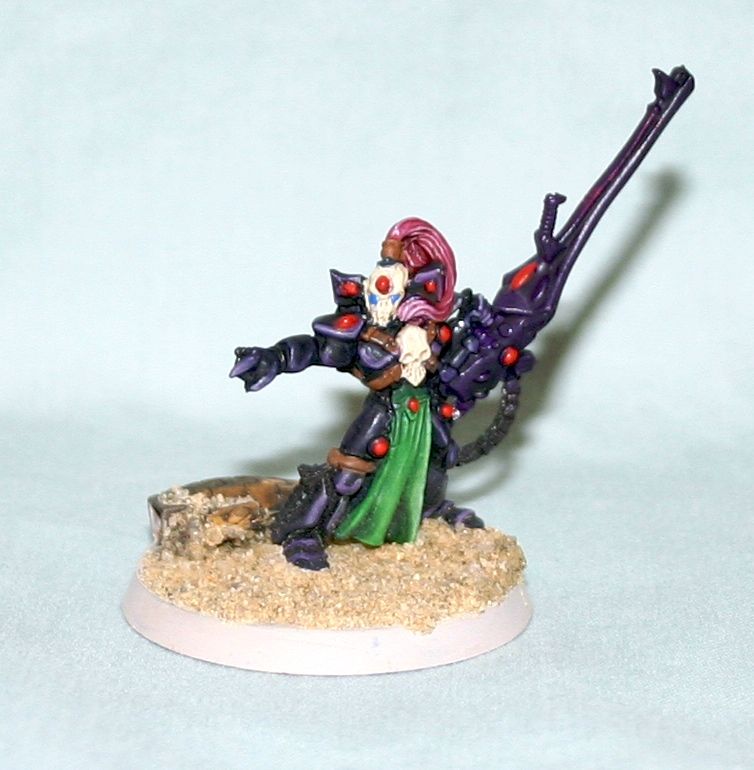 Lastly we have the Missile Launcher. I would not feel bad using him as a Tempest launcher exarch as well, although that is not the original idea. I got this guy in a trade on Barter town, and like the conversion that was done.